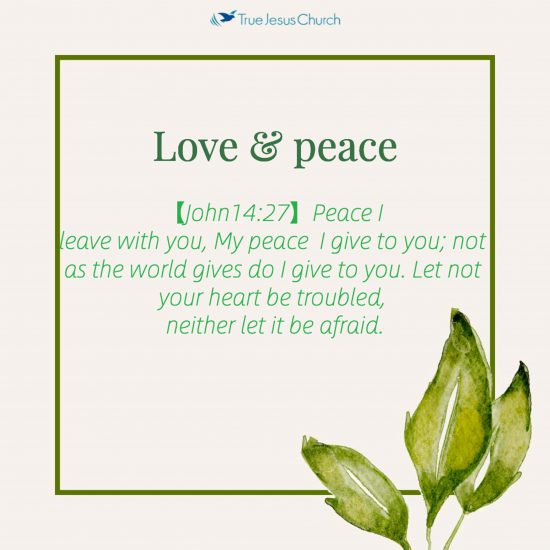 Welcome to the True Jesus Church at Chicago, where we will focus on the beautiful gifts of God– of peace and love. We are so glad you've chosen to join us on this journey towards a life filled with peace and love.
At the heart of our exploration are two fundamental values: peace and love. These values can be elusive in today's world, but they are essential for a fulfilling life. God promises to give peace to all who ask. We just need to pray and praying is how we communicate with God.
The ten keys listed on this page help us cultivate and nurture peace and love in our lives. Through awareness, gratitude, forgiveness, self-care, positivity, love and relationship, spirituality, personal growth, emotional healing, and community and connection, we can create a life filled with peace and love.
Awareness helps us to be present in the moment, to focus on what is happening right now
Gratitude helps us to appreciate the good things in our lives, and to cultivate a sense of abundance and joy. When we're grateful, we see the world through the lens of love.
Forgiveness helps us to release the pain and hurt of the past, and to open ourselves up to love and peace in the present.
Self-care helps us to prioritize our own well-being, and to show ourselves the love and care that we deserve.
Positivity helps us to see the good in the world, and to attract more peace and love into our lives.
Love & relationship are at the heart of our human experience. Through connection with others, we can experience the profound peace and love that comes with genuine relationships.
Spirituality helps us to connect with a higher power and to find meaning in our lives.
Personal growth helps us to reach our potential, and to become the best version of ourselves.
Emotional healing is a necessary step in our journey towards peace and love. By releasing the pain and trauma of the past, we can create space for love and peace to grow.
Community & connection help us to build supportive relationships with others, and to work together towards a world filled with peace and love.
So, are you ready to embrace a life filled with peace and love? Let us not be afraid. By focusing on peace and love from God we can create a better world for ourselves and for those around us. Join us on this journey to receive God's peace and love.
We look forward to seeing you in our upcoming Evangelical Service and Spiritual Convocation in April.
Save the Dates! 27-30 April (All day starting 9:00AM Friday, 28 April and Saturday, 29 April, 2023). Stay tuned for more updates for Thursday 27 April and Sunday, 30 April, 2023. Please find our church location below:
4N550 Church Road
Bensenville, IL 60106

Google Maps
For regular service hours, please click here.
Email us at ilovejesus@tjc-chicago.org
The Best Decision of My Life
Nancy decided to look into Christianity and had the unique opportunity to visit 4 different True Jesus Church locations within 5 weeks. At each, she felt the love of the members and the unity in prayer. This was the beginning of her discovery of the beauty in God.
A Call to a New Life
Though raised in a family with a long tradition of Catholic beliefs, Richard came to feel an emptiness through the years. He had always felt that something was missing, until one day when God began to work mightily in his heart.