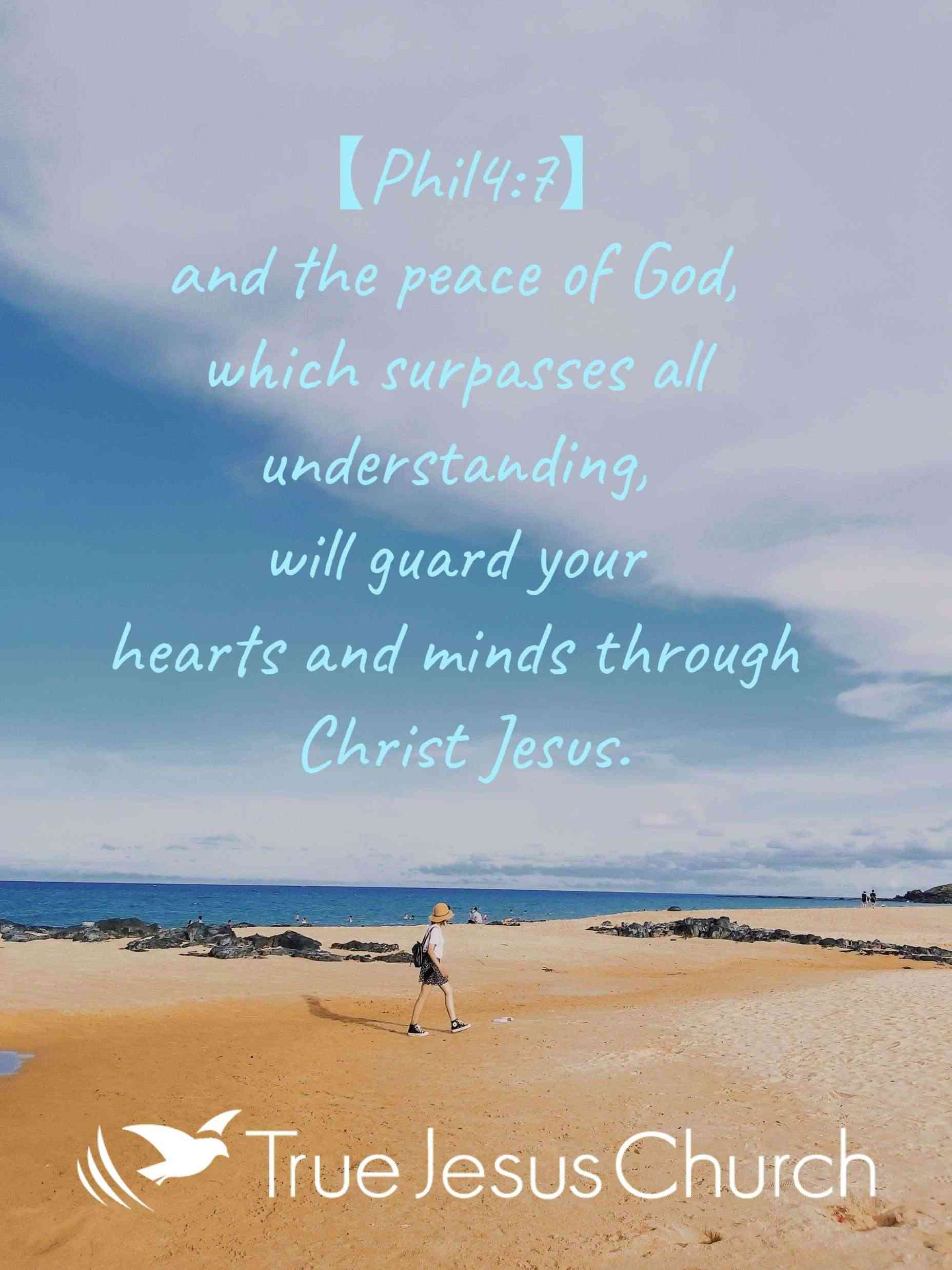 We often experience growing pains in our life.
Such pains often begin from our own family. We may have been deprived of love or we may have worked hard but yet can't meet our parents' expectations. To get a break, we take timeouts to escape. During such times, we feel the need a friend who can listen, or a counselor who can help us sort out our conflicted inner feelings about why we love our family members and yet hurt them so much.
As such conflicting emotions build up, sadness, pain and anxiety, take a toll on our health. We then become unable to focus well on our career development and unable to find work-life balance. We become unconfident and unable to have spiritual and mental strength help or healthy relationships. We lose our self confidence and soon become so weak that we go on a downward spiral spin.
Friends, love and peace are so important to us! If we do not have peace, life becomes a painful torture. But to have peace, we must embrace the source of love, which is God, Lord Jesus Christ. How do we get the peace of God and how do we experience it?
Philippians 4:7 refers to "peace of God which transcends all understanding." Peace is a state of calmness or quietness of spirit that triumphs over all circumstances. Peace is a gift from God and is consistent with His Character (1 Thess 5:23). The closer we draw to God, the more of His peace we can enjoy. In 2 Peter 1:2, it says "Grace and peace be yours in abundance through the knowledge of God and of Jesus our Lord." When we grow in understanding of the depths and riches of God's love for us, our minds and spirits begin to rest in His power and wisdom. "May have power, together with all the Lord's holy people, to grasp how wide and long and high and deep is the love of Christ, and to know this love that surpasses knowledge—that you may be filled to the measure of all the fullness of God."(Ephesians 3:18-19 ) We then begin to understand that He really will make all things work together for our good (Romans 8:28). In the end, we learn that His purpose, will be accomplished and that's real peace for us (Proverbs 19:21).
In our pursuit for God's peace, we must also be aware of certain attitudes that can destroy the peace of God. An example is the expectation or assumption that God will give us whatever we want and ask for. Having such expectations will set us up for disappointments. "Therefore, in order to keep me from becoming conceited, I was given a thorn in my flesh, a messenger of Satan, to torment me. Three times I pleaded with the Lord to take it away from me. But he said to me, "My grace is sufficient for you, for my power is made perfect in weakness." Therefore, I will boast all the more gladly about my weaknesses, so that Christ's power may rest on me." (2 Corinthians 12:7-9)
Let us live a lifestyle where we make God our refuge. Then we can live a live in God's peace. Put God in our heart and abide in Him, stay in constant fellowship with Him and His people. In doing so, we can remain peaceful even when the going gets tough. And when we learn to cry out to Him in times of trouble, we find that His peace does really pass all human understanding (Philippians 4:7).
Friends, come quickly and fellowship with us, and receive this wonderful love and peace together!
We warmly invite you to our Evangelical Service and Spiritual Convocation in April and delight in a Christian life on Earth as it is in Heaven. We hope to see you there!
We warmly invite you to come to the True Jesus Church's bi-annual Evangelical Service and Spiritual Convocation. See details below.
27-30 April, 2023 Evangelical Service and Spiritual Convocation
Thursday, 27 April, 2023 6:50PM to 8:10PM
Friday and Saturday, 28-29 April, 2023 9:00AM to 8:10PM
Sunday, 30 April, 2023 9:00AM to 1:00PM
Complimentary lunch and dinner will be served.
Please find our church location below:
4N550 Church Road
Bensenville, IL 60106
Google Maps
For online streaming, please click here.
For regular service hours, please click here.
Email us at ilovejesus@tjc-chicago.org
The Best Decision of My Life
Nancy decided to look into Christianity and had the unique opportunity to visit 4 different True Jesus Church locations within 5 weeks. At each, she felt the love of the members and the unity in prayer. This was the beginning of her discovery of the beauty in God.
A Call to a New Life
Though raised in a family with a long tradition of Catholic beliefs, Richard came to feel an emptiness through the years. He had always felt that something was missing, until one day when God began to work mightily in his heart.
Jesus Christ Opened My Eyes
A walk along the beach was the beginning of an extraordinary journey for Ruedi that led to a complete change in lifestyle and self-perception. In accepting God's calling, he has found a peace that he feels nothing in the world can replace.
More than a Theory
Ethan is an electrical engineer professor who grew up as an atheist. When he was first introduced to Christianity, he took a liking to how it explained many questions in life. But it was still just a nice-sounding theory to Ethan since he was unsure of God's existence. Ethan shares how he became firmly convinced that the Bible is true and that God is real.
The Lord Jesus Came into My Heart
The first hymn that Sunny heard when he came to the True Jesus Church was "Into My Heart." Since opening his heart to Jesus and receiving baptism, the Lord Jesus has been with him every step of the way. Although Sunny is no longer with us today, we learn that he didn't live a day without blessing and praising the Lord with joy.
Finding the Missing Piece
Calvin was used to being surrounded by friends and began going to church because of social reasons. However, during college, he had to face the fact that his friends could not always be there for him. He began to search for God, but always felt that something was still missing. He found that missing piece when he encountered God in the True Jesus Church.