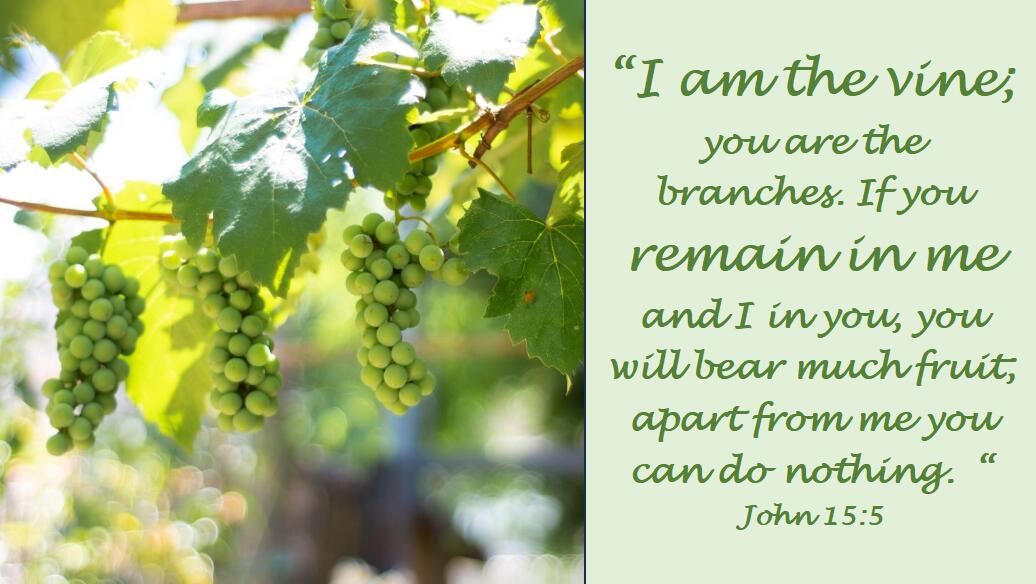 Doing More, Better, Faster OR Being Closer, Deeper and Wiser?
Have you noticed others who are always so busy to the point you wonder what they are trying to get done?  And while watching them you sometimes wonder if you should be busy with something that perhaps you have missed?  Then there are those who are so laid back to the point it appears they don't care about anything and have "given up".  The big question is, why am I so busy DOING stuff?  
Let's face it.  You have a To-Do list to get through with life.  You might even have a Master To-Do list for all your sub-To-Do lists…one for work, one for family, one for church and the list goes on.  Then there is a To-Do list to lead a balanced life.  What is the definition of a balanced life?  Striving to do more is not God's plan for us.  Results come from how we do things, not what we do.  God wants us to abide in Him.  Abiding in Christ shifts how we handle our to-do lists.  The "how" has to do with "being".  So, we need a "To-Be/Becoming" list and the top of that list is "To Be like Jesus" by abiding in Him. "I am the vine; you are the branches. If you remain in me and I in you, you will bear much fruit; apart from me you can do nothing. " (John 15:5)   And we will bear the fruits of the Spirit.
What does a To-Be list look like?  Let us look at Mary and Martha.  "As Jesus and his disciples were on their way, he came to a village where a woman named Martha opened her home to him. She had a sister called Mary, who sat at the Lord's feet listening to what he said. But Martha was distracted by all the preparations that had to be made. She came to him and asked, "Lord, don't you care that my sister has left me to do the work by myself? Tell her to help me!"
"Martha, Martha," the Lord answered, "you are worried and upset about many things, but few things are needed—or indeed only one. Mary has chosen what is better, and it will not be taken away from her."  (Luke 10:38-42).  Martha had a To-Do preparation list.  The problem is NOT that she had a list.  Martha was so caught up and distracted by her to-do list to the point she left out her to-be list.  She forgot about being closer to Jesus.  Jesus told Martha to stop worrying about doing things but to choose something better.  Jesus cares more about who you are being or becoming than what you are doing.  
Our Invitation to You—Choose and prioritize being more like Jesus.  It's not that you are tossing away all your to-do lists.  It's about focusing on Jesus while you do the work to care and love for others.  When you focus on being (abiding) in Him, you bear the fruits of the Spirit from a state of joy and restoration.  (Galatians 5:22-23)
Your Turn…Your To-Be list.  So, what's in your To-Be list?  How can you become more like Jesus?  That To-Be list is a good visual reminder for you every day that He cares who you are becoming.  Make focusing on your being a priority.  Here is what your To-Be list could look like.
Be close to God
Be loving
Be joyful
Be peaceful
Be patient
Be kind
Be good
Be faithful
Be gentle
Be self-controlling
The source of this To-Be list is the Bible.
In this wave of encouraging messages leading up to our Fall Evangelical Service and Spiritual Convocation from 14-17 September, 2023, we offer you applications on how to be in Him.  Go ahead to tjc-chicago.org and click on the "Your Needs in Life" tab and grow your Being.
Physical Wellness—No matter what physical condition prevails in you, focus on being close to Him because He cares for you.  1 Peter 5:7 Cast all your anxiety on him because he cares for you.
Peace and Love—"Therefore, as God's chosen people, holy and dearly loved, clothe yourselves with compassion, kindness, humility, gentleness and patience. Bear with each other and forgive one another if any of you has a grievance against someone. Forgive as the Lord forgave you. And over all these virtues put on love, which binds them all together in perfect unity.
Let the peace of Christ rule in your hearts, since as members of one body you were called to peace. And be thankful. Let the message of Christ dwell among you richly as you teach and admonish one another with all wisdom through psalms, hymns, and songs from the Spirit, singing to God with gratitude in your hearts."  Colossians 3:12-16.  How many "beings" can you find?  E.g., Be compassionate, be kind, be humble etc.  A life led by the Spirit has virtues that are different from the world.
College and Career—Be entrusting to God in your college and career choices.  "I will instruct you and teach you in the way you should go; I will counsel you with my loving eye on you." Psalm 32:8
Life Balance—Be pleasing to God. "Am I now trying to win the approval of human beings, or of God? Or am I trying to please people? If I were still trying to please people, I would not be a servant of Christ."  Galatians 1:10
Family Balance—Be obedient and respectful like Abraham and Isaac.  "Sometime later God tested Abraham. He said to him, "Abraham!"
"Here I am," he replied.  Then God said, "Take your son, your only son, whom you love—Isaac—and go to the region of Moriah. Sacrifice him there as a burnt offering on a mountain I will show you."  Genesis 22:1-2
Truth About God—Be righteous and faithful.  "Righteousness and justice are the foundation of your throne; love and faithfulness go before you." Psalm 89:14
Spiritual Growth—Be rooted in Christ to grow.  "So then, just as you received Christ Jesus as Lord, continue to live your lives in him, rooted and built up in him, strengthened in the faith as you were taught, and overflowing with thankfulness."  Colossians 2:6-7
We invite you to sit at His feet like Mary to focus on becoming and being.  Join us for the Fall Evangelical Services and Spiritual Convocation (ESSC) from September 14 to 17, 2023 at our church located as follows.  Let's sit together then.
True Jesus Church
4N550 Church Road
Bensenville, IL 60106
 Google Maps
For online streaming, please click here.
For regular service hours, please click here.
Email us at ilovejesus@tjc-chicago.org